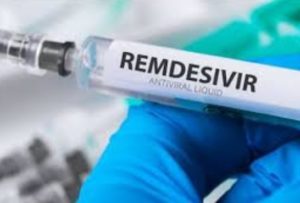 May 7, 2020 Remdesivir is an antiviral infusion treatment designed to weaken and kill Ebola by reducing its "viral load" – or disease burden.
The infusion treatment appeared promising enough with Covid-19 as it entered the final stage of clinical trials that drug maker Gilead Sciences announced this week that it will donate its remaining 140,000 courses of treatment to the federal government, which will parcel it out in U.S. communities with the greatest need.
Demand has grown as it shows effectiveness, creating a worrisome supply chain akin to those health providers already endure with test kits and personal protective equipment.
UB-affiliated Kaleida Health physicians applied to participate in the trial but instead were put into an "expanded access program" designed to broaden availability.
Nadler and Dr. Manoj Mammen, both Buffalo General pulmonary critical care doctors, ordered remdesivir in March.
They received the first doses last week – enough to treat 10 patients. If patients deemed good candidates experience a benefit, the health system may get a secondshipment of the same amount.
Remdesivir is a complex, hard-to-make drug. It took a year to prepare the doses now available. Gilead hopes to cut the manufacturing process in half.
Early studies show that those given the treatment in the ICU spent four fewer days on a ventilator than other patients – 11 days versus 15. Patients with kidney and liver damage can't be given the treatment.
"If we do get treatments that, even though they're not miraculous, shorten the course, hospitals and ICUs will be able to put patients in the right direction and get them through treatment much quicker," Sethi said. "That reduces the load on the hospital system."