Mindful ​Hypnotherapy in Burlington, MA
Mindful hypnotherapy is an enjoyably relaxing way for anyone to overcome many of life's day-to-day challenges.​​
Paul Gustafson RN CH has been helping clients from the Greater Boston area take back control of their lives since 2001.
   Paul guides clients into hypnotic meditation while offering creative suggestions and imagery supporting lasting healthy change.
   Remote | In-office | Client videos | Info videos | MP3s
Weight | Pain | Stress | IBS | Substance | Insomnia | Smoking | Tinnitus
Does weight loss have to be so hard? Get gastric band results without the risky surgery. Try this effective alternative to dieting. Paul Gustafson's 4 session virtual gastric band weight loss hypnosis program has been featured on Boston's WBZ radio.
Quit Smoking Hypnosis Program
Paul Gustafson RN CH offers a 2 visit smoking cessation hypnosis program that uninstalls the smoking impulse, replacing it with the strong desire to live a long healthy life. Quit smoking with no cravings, mood swings, or weight gain. Relax your way to a smoke-free life.
Paul Gustafson and his client, Karen, were interviewed by Sheyna Seymour during an episode on Chronicle about phobias.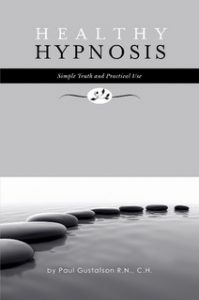 Healthy Hypnosis: The Simple Truth and Practical Use Paul explains the A-B-C's of clinical hypnosis and offers case studies and examples of actual client sessions. This is a must read for anyone interested in this fascinating technique.